Seid gegrüßt, Unsterbliche!
Ein neuer Monat beginnt und der April hat viel zu bieten! Wir führen die APRIL MANIA in Dawn of Gods ein. Im Laufe des Monats wird es drei Events pro Woche geben. Klickt auf die Events, um mehr darüber zu erfahren! 
      Wir werden unseren wöchentlichen Kalender an jedem Freitag des Monats aktualisieren, also vorbeischauen! 
      Und hier ist die Plannung für die Woche #2 der April Mania: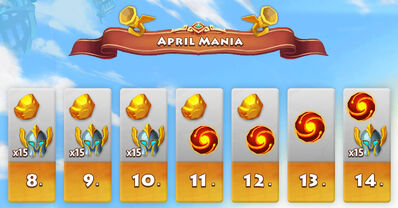 d
Ad blocker interference detected!
Wikia is a free-to-use site that makes money from advertising. We have a modified experience for viewers using ad blockers

Wikia is not accessible if you've made further modifications. Remove the custom ad blocker rule(s) and the page will load as expected.