Salutations, Immortels !
Nous sommes sur le point de démarrer un nouveau mois et Avril a beaucoup à vous offrir, Immortels ! Laissez nous vous introduire l'« Avril Mania » dans Dawn Of gods. Tout au long de ce mois d'avril nous vous proposerons 3 évents par semaine. Cliquez sur les différents évents pour en savoir plus ! 
      Nous publierons notre calendrier hebdomadaire chaque vendredi du mois. Donc restez à l'écoute ! 
      Voici un aperçu du planning de la Semaine #2 de l' « Avril Mania » :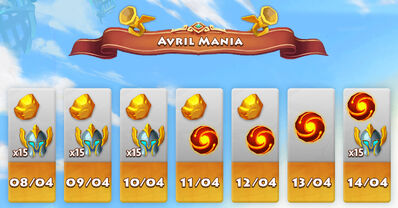 d
Ad blocker interference detected!
Wikia is a free-to-use site that makes money from advertising. We have a modified experience for viewers using ad blockers

Wikia is not accessible if you've made further modifications. Remove the custom ad blocker rule(s) and the page will load as expected.