Wir möchten euch mitteilen, was unser geniales Game Sage Team für Dawn of Gods macht. Wenn ihr unsere Game Sages noch nicht kennt, hier sind sie:
LINK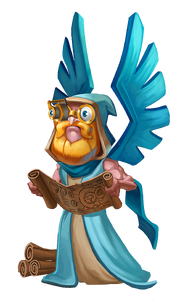 Die GS haben drei Aufgaben in der Community, die euch eine bessere Verbindung mit unserem Team gibt.  
Moderation im Chat
Unsere GS sind im Chat, damit die Konversationen höflich bleiben. Chats in verschiedenen Sprachen zu verwalten ist nicht einfach! Wir bitten euch, euch an einigen Regeln zu halten, zum Beispiel nicht zu 'spammen', wenn ihr für eure Allianzen rekrutiert (eine Nachricht alle 10 Minuten). Bitte beachtet, dass unsere GS schlechtes Verhalten oder unangemessene Sprache melden könnt, solche Meldungen können zu Strafen vom GM-Team führen.
Unsere GS haben ein Community Forum erstellt, hier könnt ihr das Spiel diskutieren. Wenn ihr das Forum noch nicht gesehen habt, dann: LINK
Der Community zu helfen
Wenn ihr Fragen um ein Feature im Spiel habt oder, wenn ihr Tipps und Tricks haben wollt, dann kontaktiert unsere erfahrenen GS, die euch gern helfen werden. Ihr könnt sie im Chat finden oder eine Freundschaftsanfrage vom Spiel schicken. Übrigens, GS_Platon hat ein tolles Handbuch für Neuanfänger geschrieben. Wenn ihr euer DoG-Abenteuer erst angefangen habt, müsst ihr es mal durchlesen: LINK
Dem Team zu helfen
Unsere GS sind da, um Probleme, Feedback oder Vorschläge beim GM-Team zu melden. Ihr Engagement und ihre Kenntnisse bedeuten, dass sie eine wertvolle Verstärkung sind. Mit ihnen können wir unser geliebtes Spiel verbessern. 
Vielen Dank, liebe GS!
Ad blocker interference detected!
Wikia is a free-to-use site that makes money from advertising. We have a modified experience for viewers using ad blockers

Wikia is not accessible if you've made further modifications. Remove the custom ad blocker rule(s) and the page will load as expected.