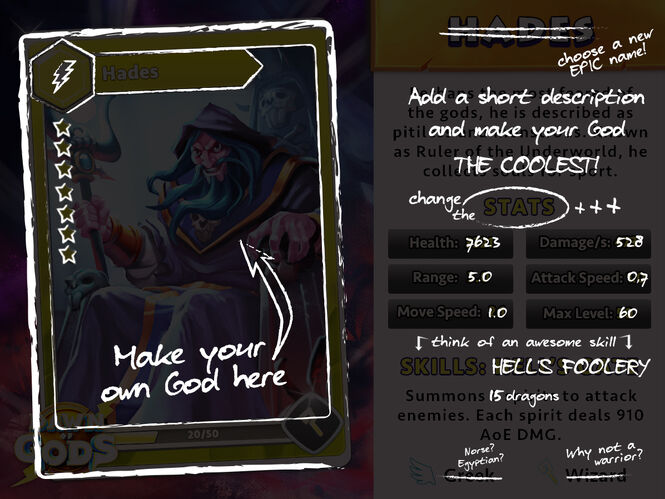 Intro
Greetings, Immortals. Today we'd like to test your creativity by inviting you to design your own God! Follow the rules below and get back to our Facebook page to show your God and participate to get a chance to win big!
Rules
Download the card template (available in English, German or French)
Design your awesome God, find him a cool name, strong stats and add it a short description.
Share your God as a comment on this Facebook post (http://bit.ly/1RXy209)
Like the Gods you love on the Facebook post.
You have 48 hours to participate.

Rewards
All participants will get x20 Elixir + x3 Mystic Rune + x1 Grand Summonstone
The three most liked Gods will win the participation prize + x1 Purple Relic and a 6* God of their choice.
There will be one special prize for the team's favorite ;)

Good luck and keep it creative!
Ad blocker interference detected!
Wikia is a free-to-use site that makes money from advertising. We have a modified experience for viewers using ad blockers

Wikia is not accessible if you've made further modifications. Remove the custom ad blocker rule(s) and the page will load as expected.