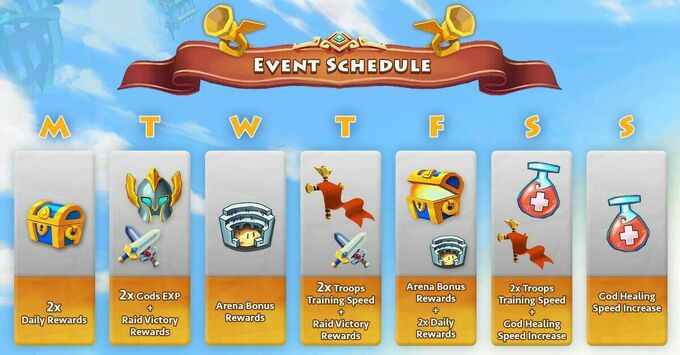 | Monday | Tuesday | Wednesday | Thursday | Friday | Saturday | Sunday |
| --- | --- | --- | --- | --- | --- | --- |
| Double Daily Rewards | 2x Gods EXP | Arena Bonus Rewards | 2x Troops Training Speed | Double Daily Rewards | 2x Troops Training Speed | God Healing Speed Increase |
| | Raid Victory Rewards | | Raid Victory Rewards | Arena Bonus Rewards | God Healing Speed Increase | |
Event Description
Arena Reward Bonus
For the duration of this, fight in the Arena and get double the normal amount of Elixirs, plus a better chance of getting 4 and 5-star Gods after each battle!
Double Daily Rewards
Online Rewards doubled during the duration of this Event!
Raid Victory Bonus
Get even more rewards for winning daily Raids!
Double Gods Experience
For a limited time, your Gods will receive double experience during Raid Battles!
Random Events
Double 5-Star Summon Chance
Take advantage of an increased change to summon 5-star Gods during this limited event! 1x and 10x Grand summons have increased chances to summon 5-star Gods!
Loyalty Bonus - Summonings
Perform Grand Summonings using Grand Sommonstones or Comets and receive rewards as written in the event description inside the game.
Daily charge
Get bonus rewards by charging your account daily with any amount!
You can get a special 6-star God by participating in this event if you charge your account for 15 total days during the event period and if you charge the required amount of comets.