Send special agents across the world to collect bounties and try to get exclusive content, like Gods which are only available in special events, in the shop.
The Mercenary Board is a special event which is only available for some days, so be quick!
Requests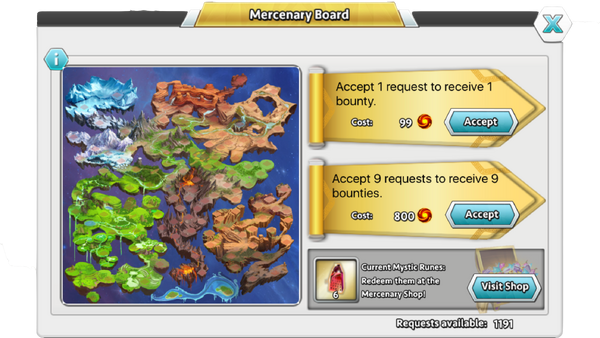 During this event you can find the Mercenary Board randomly on your base. Dispatch mercenaries to the far reaches of the Celestial Realm. You can accepts one request for 99 comets in order to receive one bounty or nine requests for 800 comets (discount of 91 comets). At the bottom of the board you can see how many requests during the event time are left, the requests will be not reset during day / night cycle.
Mercenary Shop
You can redeem your collected Mystic Runes inside the Mercenary Shop. The Mercenary Shop is only open during the special event time. Special Event Gods are exchangeable one time only.
Gold Relic Shards can be purchased up to three time a day. The limit is reset daily at 23:00.
Ad blocker interference detected!
Wikia is a free-to-use site that makes money from advertising. We have a modified experience for viewers using ad blockers

Wikia is not accessible if you've made further modifications. Remove the custom ad blocker rule(s) and the page will load as expected.