Nous voulons vous rappeler le super travail que notre équipe de Game Sage fait tous les jours pour Dawn of Gods. Si vous ne connaissez pas nos GS, il est grand temps de vous familiariser avec l'équipe – Lien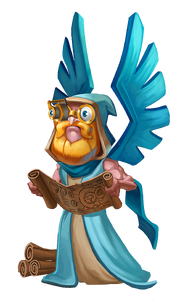 Les GS ont trois rôles différents au sein du jeu pour faire le lien entre les joueurs et l'équipe.
Modération du chat
Nos GS sont présents sur le chat pour faire en sorte que cet espace reste cordial et courtois. Prenez en compte que modérer un chat en plusieurs langues n'est pas chose facile. Nous vous invitons à y respecter quelques règles de base comme éviter de « spam » le chat avec vos demandes de recrutement d'Alliance (un message de recrutement toutes les 10 minutes est suffisant). Gardez aussi à l'esprit que les GS peuvent nous faire part de tout manquement aux règles de modération, ce qui peut bien sûr mener à des sanctions de la part de l'équipe de Game Master.
Nous en profitons pour vous dire que les GS viennent de créer un Forum communautaire pour faciliter la communication entre joueurs (une section française est disponible). Si vous voulez y jeter un coup d'œil, c'est par ici - Lien    
Aider la communauté
Si vous avez une question, un bug à signaler ou bien une suggestion, n'hésitez pas à contacter un GS sur le chat ou bien directement en jeu en leur faisant une demande d'ajout en ami.
Au fait, nous tenons à féliciter GS_Platon qui vient tout juste de publier « un guide du débutant » pour aider tous les nouveaux joueurs sur Dawn of Gods. Si vous voulez des trucs et astuces on vous en conseille la lecture (en Anglais) – Lien
Soutien de l'équipe
Les Game Sages nous aident également à remonter plein d'informations utiles pour que nous puissions améliorer le jeu que nous aimons tous !
Un grand merci à toute notre équipe de GS ! 
Ad blocker interference detected!
Wikia is a free-to-use site that makes money from advertising. We have a modified experience for viewers using ad blockers

Wikia is not accessible if you've made further modifications. Remove the custom ad blocker rule(s) and the page will load as expected.