Greetings Immortals,
Grab a cup of hot chocolate and join us under the Christmas tree while we give you an overview of the great stuff we have in store for you. We'll discuss the contents of the forthcoming update, as well as provide insights into a few bugs we're fixing along with community support updates.
The holidays are upon us, and we have a new update to share with you! The new Dominant Ruler quests have been launched, and they provide a great start for new players. We'd like to offer a warm welcome to all players who are now able to play the game in Portuguese, Spanish and Russian: Hola, Olá and привет! Lastly, we'll have a blast this holiday season with a special Cornucopia event and the start of the one and only World Championship. The World Championship will be our largest PVP event yet, and it gives the top players the chance to face-off to determine who will be the Dawn of Gods World Champion. We'll also be creating a page on our Wikia dedicated to introducing and explaining the World Championship. Make sure you download update 2.0.0 ""Worlds Collide"" today!
iTunes: http://apple.co/2hsAcxc Google Play: http://bit.ly/2huzeh0
In January, we'll have another update ready for you that will introduce new Gods, a new PvE event called ""Invasion!"", as well as a new limited-time event that will feature a rewards wheel. The 2.1.0 update ""Winter Invasion"" will be available by the end of January. We're also working on bug fixes that will be included in this update. At this time, we're investigating an issue that makes iOS devices crash when sending screenshots to customer support. If you want to send us screenshots before we implement a fix, please do so by sending an email to dawnofgods@aeriagames.com. We're also looking into an issue which is hindering some players from leveling up and evolving their Gods. If you have info about this (including screenshots or videos) please send it to us at dawnofgods@aeriagames.com.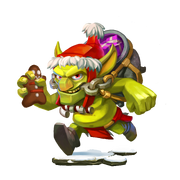 We also have some good news regarding customer support: we've recently added new members to the GS team to support the game. For more details, please check our Facebook page. Please note that over the holidays, response to tickets will be a bit slower since part of the team will be on vacation for Christmas and New Year's. A number of us will still be here to check your email and messages, but please bear with us if we reply a bit slower than normal.
We hope all of you will have a great time during the holidays, and that you enjoy the winter update and festive events!
All the best, PM Gaia
Ad blocker interference detected!
Wikia is a free-to-use site that makes money from advertising. We have a modified experience for viewers using ad blockers

Wikia is not accessible if you've made further modifications. Remove the custom ad blocker rule(s) and the page will load as expected.