Quests are objectives that you can complete for rewards. These are different kind of tasks that can be done either on a daily basis or only once, being closer to achievements, then.
Do not confuse Quests with Missions, which you can get in the Astral Portal and are providing Dusts, Shards and Relics.
What can be obtained?
Quests Rewards may be: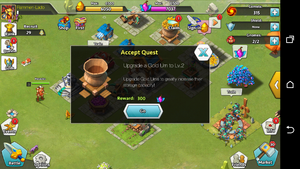 Experience
Dust of some colour
Elixirs can be obtained through daily missions while the other rewards can be obtained by leveling up gods, obtaining gods, upgrading buildings and a lot more.
Where do I find my quests?
If you want to see what sort of quests you can complete, go to the Quests menu on the left-hand side of the screen in the game and look through the 5 sections.
These sections are as follow:
| Kind of Quest | Description | Examples |
| --- | --- | --- |
| Daily Quests | Quests that can be done on a daily basis. | Arena fights, Raid Battles, support of your alliance or giving Arena keys to friends. |
| Building Quests | Quests where you have to build certain buildings and upgrade them. | Upgrade of the Pantheon or Barracks, remove obstacles (Trees, etc.), destroy city walls in Raids. |
| Battle Quests | Everything battle related, can only be done once. | Obtain a certain amount of flags in Conquest, steal 20k gold, win Raids. |
| Gods Quests | Quests related to gods. | Summon 4 Star gods, rise a god up to level 30, collect 50 different gods. |
| Other Quests | Quests that are game related. | Play for 7 days, reach level 30, donate supplies. |
Be sure to check these out and claim rewards for your hard work, each reward can only be claimed once (except for daily quests) and some quests may have 3 stages that you can complete.