Relic Trove is where the relics you possess are being described. You can sort relics by their colour. The available space for relics can be extended using comets. The question mark will open a window showing Relic details, including its history and possible attributes. Different Dusts you owe are listed here. The Collection button will open a window showing all relics.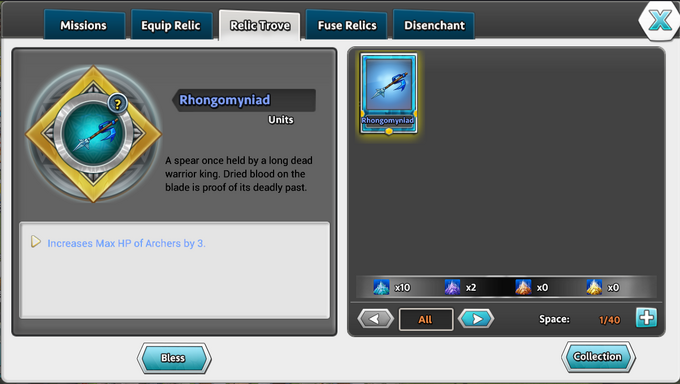 Your relics can be blessed by using Ambrosia and Dust. While doing so you will replace the attributes of your Relic. Be aware that ALL the Attributes will be replaced.
When hitting the Bless button, the cost of Blessing will be paid (in Ambrosia and Dusts, then). The new Attribute(s) will appear in the window below, allowing you to see what will be the Blessing result. Even though you already paid for the Blessing, you might still avoid replacing the old Attribute by the new one by simply closing the Bless Relic window. In case the new Attribute is to your liking, simply hit the Replace button.
Note: one important element is that one Attribute can be locked, but this will increase the cost of Blessing with Comets. Gold Relics can even have two Attributes locked.
Cost of Blessing Relics (locking Attributes is optional)
Relic Rarity
Ambrosia
Blue Dust
Purple Dust
Orange Dust
Gold Dust
Comets 1st Lock
Comets 2nd Lock
Blue
50.000
1
Purple
150.000
2
1
10
Orange
300.000
3
2
1
25
Gold
500.000
4
3
2
1
50
50
Ad blocker interference detected!
Wikia is a free-to-use site that makes money from advertising. We have a modified experience for viewers using ad blockers

Wikia is not accessible if you've made further modifications. Remove the custom ad blocker rule(s) and the page will load as expected.